New to our Forums? Please review our
Posting Guidelines and Forum Policy
prior to posting.
Charlie
Hi All. 
My name is Charlie and I have a small problem with my burnt out slingbox.
I have a UK slingbox Solo, there is a component labeled "D23" behind the power socket on the board, my one has burnt out beyond recognition. I was wondering if someone could take a look at their own and identify the part, provide whats printed on the top so I could replace it?
<img src="/forum/general-sling-box-discussions/burnt-out-component-could-someone-identify-please/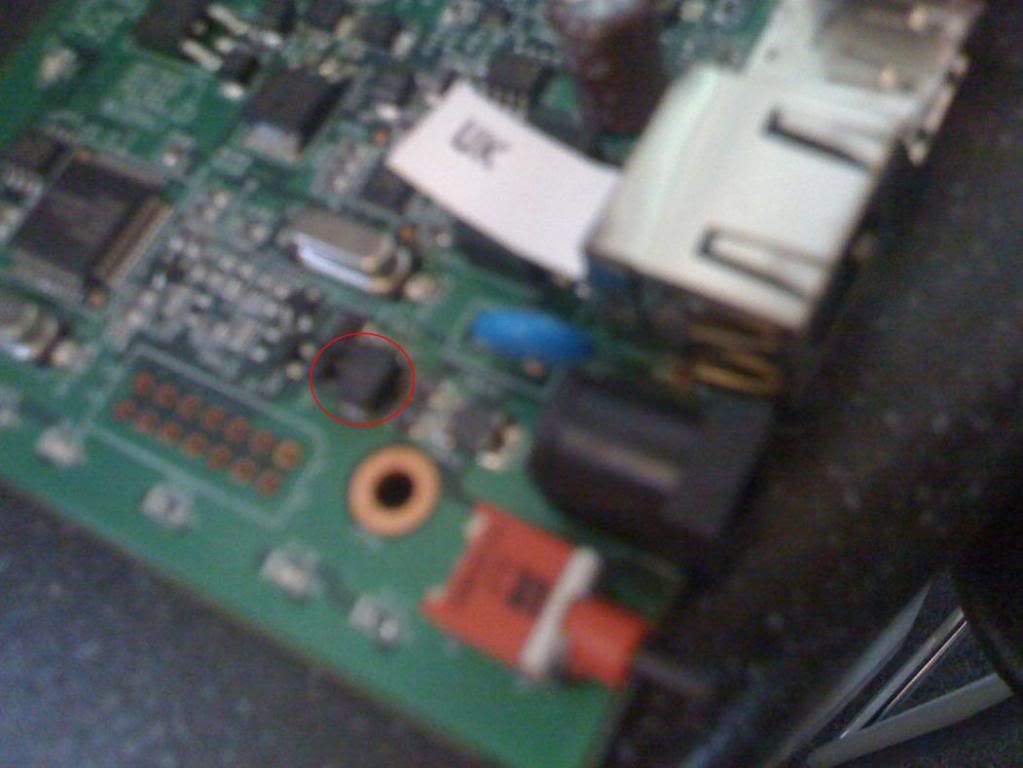 charlie
charlie
I was using a power supply from a slingbox classic, doh!
charlie
detrick
Forum Posts: 5
Member Since:
June 1, 2011
Offline
D23 is almost definitely a 'reverse polarity protection diode' based on it's location in the circuit. It is definitely a diode. You can probably find a suitable replacement near the power connector on an old hard drive, but as always, YMMV with those (specs may be slightly off). The most key thing to remember in replacing it is to ensure that the "bar" (on the left side in this image) is oriented in the same direction when you place the new part. These things cannot be put in backwards (well, they can, but they will immediately fail). They are designed into circuits to protect the rest of the circuit, should the polarity of the power supply be reversed.
If you have never soldered surface mount components before, practice on some old/dead electronics first. Desoldering braid is a huge help, as is a fairly small tip on your soldering iron. Tweezers and/or a flat jewelers screwdriver can also be handy. Luckily, these diodes are large enough that they're not too bad to work with. Installation is easy. Lay the new part in place, put a little downward pressure on it (toothpicks are great for this), and heat each connection with the soldering iron a few times until you feel it settle into place. Try to be quick with the soldering, so as not to overheat it, or the surrounding circuit.
Daniel
Brazil
Forum Posts: 10
Member Since:
March 13, 2012
Offline
Hello All,
I am probably having the same problem, but my board is not dark or burned... But I am sure it´s not working (smiles).
By mistake, I´ve connected a 12V 2A (2000mA) power supply into my slingbox Pro and now all times I try start it the Logo and Network lights just blinking all the time.
Do you know if I replace this component my slingbox may return to life?
Thanks in advanced.
Daniel
martiniturbide
Forum Posts: 2
Member Since:
May 30, 2012
Offline
Hi
I'm on a similar problem here with the slingbox Solo. It was connected a different power supply adapter by mistake and it does not turn on anymore.  I had opened it and there is no visible damage on the unit. So I can not pin point exactly what can be the component that need to be replaced.
When I plugged the device, there is no light, or any kind of activity on the device.
I do not have enough knowledge on repairing electrical components. (but in the past I had opened up some stuff and did some component soldering).
Is there a way to pinpoint exactly which component may be failing with a multimeter. Or in this case it is for sure that this "diode" may be burned ?
Any other suggestion is welcome too.
Martin
martiniturbide
Forum Posts: 2
Member Since:
May 30, 2012
Offline
vlite
Forum Posts: 3
Member Since:
August 3, 2012
Offline
martiniturbide said
..ok. So I missed the joy to repair it myself.

I took it to the technical repair center. It seems they solder a diode (?). Here are some pictures, and Im pointing out the extra component.

 

 
Dear All,
Can someone help me to id the FB44 component? My SOLO is only 4-5 months old.
Since I am not in the states right now, I figure that I should get it repair locally.
Attached is my board. Those two problematic capacitors are now made in Japan.
Also noticed the components for the USB had been removed completely.
Forum Timezone:
America/Phoenix
Most Users Ever Online: 88
Currently Online:
23 Guest(s)
Currently Browsing this Page:
1 Guest(s)
Top Posters:
Alan Richey: 1443
eferz: 417
DSTVASIA: 222
oviano: 198
Slinguist: 147
Matt M: 143
woodland: 141
jphn6699: 94
karyuudo: 81
sp22: 80
Newest Members:
teddys
derick
kgiacopuzzi
bobpendleton
miron
Dutchgeordie
mrbogusbaxter
JohnBoy
michaelholt
venomyt
Forum Stats:
Groups: 6
Forums: 10
Topics: 2270
Posts: 11327
Member Stats:
Guest Posters: 419
Members: 13164
Moderators: 0
Admins: 2
Administrators: Brandon C, admin